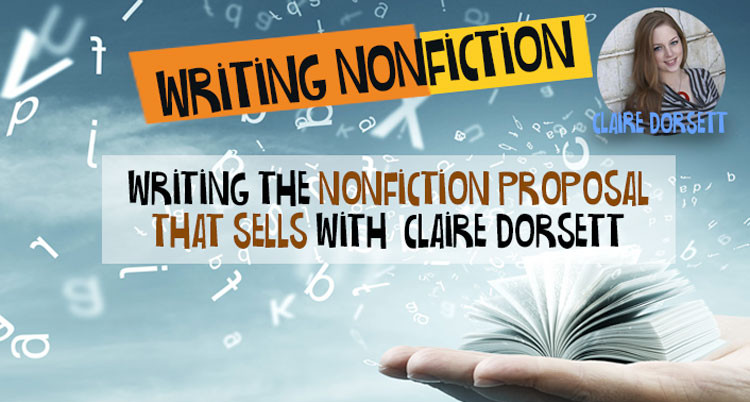 Claire Dorsett, Roaring Brook Press

Writing the Nonfiction Proposal Webinar

PLUS: One Submission Per Attendee Opportunity

Yes. You read that right. We are doing a LIVE replay of our Writing Nonfiction Proposals that Sell with Claire Dorsett AND, drum roll please: This comes with a direct nonfiction submission opportunity!
Register now and listen right away. You will learn exactly what editors are looking for in a solid nonfiction proposal. Claire will also share news of projects she acquired and you will learn what pulled them into editorial meetings and acquired.
She will also be posting in course material that will help you submit your own strong proposal.
So, whether you are a fiction writer interested in nonfiction or a nonfiction writer looking to expand your writing by proposing the nonfiction projects you'd love to write, this is the webinar for you.
Plus, this is a sample webinar of what awesome information you will receive in our longer Writing Great Nonfiction course, which you are welcome to still join in on. Simply email me and I will assist you.
Join us for our webinar on WRITING THE NONFICTION PROPOSAL and the inside scoop on what will help you make yours as strong as possible. We will be asking Claire what needs to be included? What tips she has to make your proposal stand out? And what she's currently looking for. We will be live this week, so come join us!

Faculty:
Claire Dorsett, Assistant Editor, Roaring Brook Press
Claire's love of literature led her to pursue a BA in English from Cornell University, where she was involved with campus publications The Daily Sun and Rainy Day literary magazine. She then completed the six-week intensive Columbia Publishing Course before finding a home at Roaring Brook Press, an imprint of Macmillan Children's Publishing Group, assisting Vice President and Publisher Simon Boughton. She has worked on a range of projects during her time at Roaring Brook, including Lane Smith's middle-grade debut Return to Augie Hobble, Steve Sheinkin's National Book Award finalist Most Dangerous: Daniel Ellsberg and the Secret History of the Vietnam War, and picture books The Skunk and Ned the Knitting Pirate. Among other projects, she is currently working on a series of books for emerging readers in partnership with the Scripps National Spelling Bee, as well as a picture book about fishing by Tommy Greenwald and David McPhail.
Jodell Sadler, Founder, KidLitCollege; Editorial Agent, JCLA
Jodell Sadler is the founder of KidLit College, and currently works as an editorial agent wih Jill Corcoran Literary Agency, JCLA. She has served as an art director, marketing consultant, senior designer before earning her MFA at Hamline University, where she focused on sharing her critical thesis project, PACING PICTURE BOOKS & BEYOND. She's since worked as a professor, secondary Freshman & Senior English AP/Dual Credit teacher, and founded KidLit College, a webinar, classes & critique community for writers and illustrators. Jodell teaches online and presents at conferences and events on pacing, and writes and presents with Writer's Digest University. She is a member of the Society of Children's Book Writers & Illustrators (SCBWI) and passionate about helping writers and illustrators advance their careers.

WRITING THE NONFICTION PROPOSAL is a great webinar for anyone wanting to turn their ideas and concepts into writing that top-notch editors are looking for and garner that contract. We will record this session and post for you to enjoy for a full month following this event.

Questions?
Contact me at [email protected]