Hi All,
Happy writing weekend! We wanted to add to your excitement. Our next nonfiction course is just opening and it's an exceptional journey through our NONFICTION NINJA UNLEASHED course, working with the Sibert Medailist, Candy Fleming, Asst Editor at Macmillan, Claire Dorsett, and Jodell Sadler, founder of KidLit College and editorial agent at JCLA.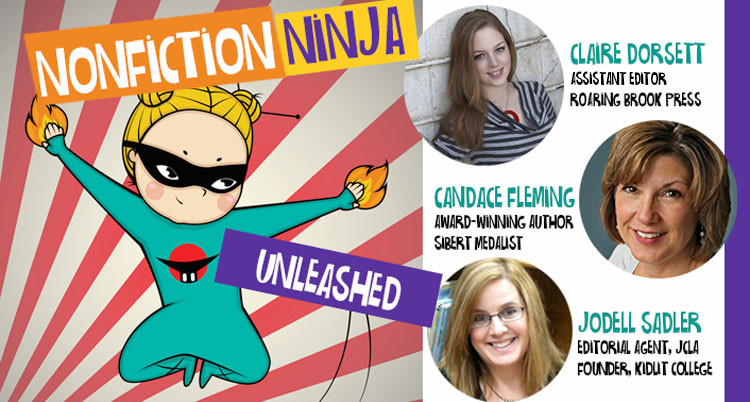 Here's more information:
Claire Dorsett, Assistant Editor, Roaring Brook Press
Claire's love of literature led her to pursue a BA in English from Cornell University, where she was involved with campus publications The Daily Sun and Rainy Day literary magazine. She then completed the six-week intensive Columbia Publishing Course before finding a home at Roaring Brook Press, an imprint of Macmillan Children's Publishing Group, assisting Vice President and Publisher Simon Boughton. She has worked on a range of projects during her time at Roaring Brook, including Lane Smith's middle-grade debut Return to Augie Hobble, Steve Sheinkin's National Book Award finalist Most Dangerous: Daniel Ellsberg and the Secret History of the Vietnam War, and picture books The Skunk and Ned the Knitting Pirate. Among other projects, she is currently working on a series of books for emerging readers in partnership with the Scripps National Spelling Bee, as well as a picture book about fishing by Tommy Greenwald and David McPhail.

Candace Fleming, Award-Winning Author, Sibert Medalist
Candace Fleming awarded herself the Newbery Medal in fifth grade after scraping the gold sticker off the class copy of The Witch of Blackbird Pond and pasting it onto her first novel—a ten-page, ten-chapter mystery called Who Done It? She's been collecting awards (her own, not Elizabeth George Speare's) ever since. Today, Candace is the versatile and acclaimed author of more than twenty books for children and young adults, including the Los Angeles Times Book Prize honored The Family Romanov: Murder, Rebellion, and the Fall of the Russian Empire; Boston Globe/Horn Book Award-winning biography, The Lincolns; the bestselling picture book, Muncha! Muncha! Muncha!; and the beloved Boxes for Katje.

Jodell Sadler, Founder, KidLitCollege; Editorial Agent, JCLA
Jodell Sadler is the founder of KidLit College, and currently works as an editorial agent wih Jill Corcoran Literary Agency, JCLA. She has served as an art director, marketing consultant, senior designer before earning her MFA at Hamline University, where she focused on sharing her critical thesis project, PACING PICTURE BOOKS & BEYOND. She's since worked as a professor, secondary Freshman & Senior English AP/Dual Credit teacher, and founded KidLit College, a webinar, classes & critique community for writers and illustrators. Jodell teaches online and presents at conferences and events on pacing, and writes and presents with Writer's Digest University. She is a member of the Society of Children's Book Writers & Illustrators (SCBWI) and passionate about helping writers and illustrators advance their careers.

Course covers:

Overview of Nonfiction Today from picture books to YA
Writing the Nonfiction Proposal
Digging in to Research
Why Backmatter Matters & What to Include

Understanding Narrative Nonfiction
Creating Authentic Scenes

Getting on the Page, Writing to Mind, Heart & Ear

Compelling Topics
Citations and Quotations

Two Crit Sessions will be included

& So Much More

NONFICTION NINJA UNLEASHED is a ten-week class on writing that top-notch Nonfiction manuscript with our final week dedicated to a discussion on how to write better fiction with a focus on nonfiction. Participants will enjoy weekly writing discussions on crafting creative nonfiction. We will discuss coming up with a compelling topic, unique bent, as well as research and citing. We will explore how to bring scenes to life through research and how to avoid crossing that line into fiction.

A lecture a week for 10-weeks, we also gather each week to discuss each topic and discuss what "push" activities your can share with fellow writers and author-illustrators in our online classroom discussion.
Are you ready? Are you registered? There's a discount surprise waiting for you online when you click the ENROLL button prior to August 24th! Hold your spot now.
Also more Crit-N-Chats...
New Crit-N-Chat open with Candace Fleming (Sept 1 and Nov 1 options), Claire Dorsett at Macmillan, and Sarah Rocket at Sleeping Bear Press. These go fast, so reserve your spot and join our Survive & Thrive group, designed to help you get the most out of you chat.
We also have First Pages and have doubled the expertise ...
New to KLC, we are doing First Pages with an Editor and an Agent. We've loved learning like this here, so now we are focusing on the set up of story and how much needs to go into the first words, first line, first character intro, concept and so much more. You will want to join us as a Participant or a Webinar Attendee and really challenge your project. This will help you bring a stronger product to the marketplace. All participants, limited to 15, will submit a whole manuscript and we will focus on first lines, but any manuscript our faculty are interested in will be shared with them. Register now

We are also hosting our next GIRAFFE, Master Class on Picture Books class on Sept 20th and on-going every Wednesday night for eight weeks.

Why GIRAFFE Picture Book Master Class?

G - et real
I - nspire yourself
R - ealize your dreams
A - sk questions
F - ind story focus
F - all in love with active writing
E - ngineer your success!

This class combines my MFA critical thesis, years of research and editing techniques. Weekly webinars and lessons guides you to re-engineer and do more with your picture book. This course takes you from idea to polished manuscript, explores structure, and helps you get on the page and create the stage that will help you hone in on what
editors and agents are looking for.

Character: Have your created that character that stands out?
Voice: How fresh is your approach, voice and character?
Firsts: Why first breath, first pages of story matters a great deal.
Concept: Is your concept strong enough and how will you better position your work?
Pacing: How might you improve how you unfold the moments of you picture book story?
Structure/Originality: What are the various structures and does originality matter?
Scenes/Getting on the page: Are you performing and engaging your stage fully?
Emotional Arc/Worldview: Have you added interiority and emotional depth? Join in!

Happy writing,
Jodell