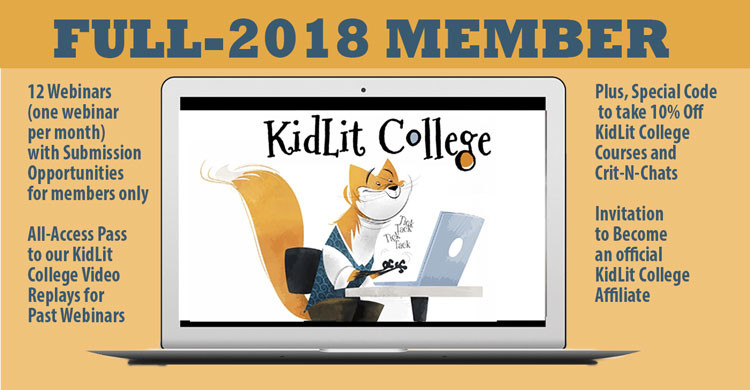 This year, we wanted to celebrate our loyal attendees (you know who you are), so we are creating a member opportunity for those who attend every webinar and offer three things: 1) a monthly webinar with submission options, 2) a bonus cha-ching by realizing 10% off all our events annually, and 3) a way to earn back through our affiliate program.
Yes! We have a membership option for 2018 for the first time ever! It's a great way to save on your KidLit College participation while edutainment learning your way to realizing your wildest publishing dreams!
You must enroll before Dec. 31st @ Midnight (11:59 PM EST).

I posted a survey of what you wanted, and I've done my best to accommodate that. You mentioned wanting more Webinars with Submission Opportunities and Crit-N-Chats. So, what we are doing this year is offering you a way to register now and save!
Our Full-Year 2018 Membership includes:
• 12 Webinars + Submission Opportunities for Members Only
• All-Access Pass to our Previous Webinars
• Special Code for 10% Off on KLC Classes, Events & Crit-N-Chats
• Invitation to Become an Official KidLit College Affiliate
Yes. It's time to pay you back for your dedication to KidLit College events. We strive to bring you quality events that are filled with the information you need to succeed as an author or author-illustrator.
If you have questions, please email Jodell at [email protected]
Warmest Holiday Wishes from KidLit College
Jodell Sadler
KidLitCollege.org