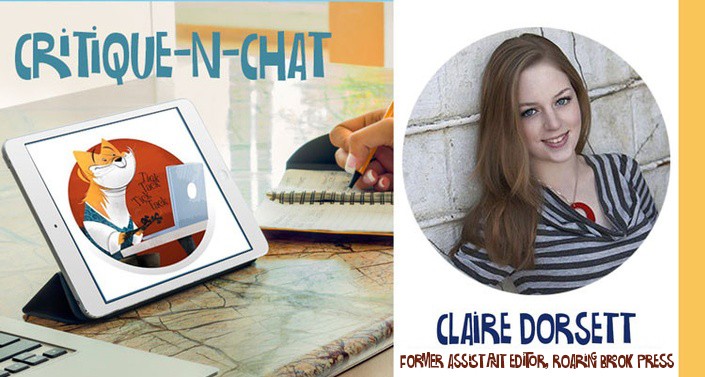 Register now for a limited number of Critique-N-Chats with Claire Dorsett.
Limited to 5 writers
Manuscripts due June 4th.
Critique-N-Chat on June 25th, starting at 6 PM EST.

Claire Dorsett, Former Assistant Editor at Roaring Brook Press, Macmillan
Claire's love of literature led her to pursue a BA in English from Cornell University, where she was involved with campus publications The Daily Sun and Rainy Day literary magazine. She then completed the six-week intensive Columbia Publishing Course before finding a home at Roaring Brook Press, an imprint of Macmillan Children's Publishing Group, assisting Vice President and Publisher Simon Boughton. She has worked on a range of projects during her time at Roaring Brook, including Lane Smith's middle-grade debut Return to Augie Hobble, Steve Sheinkin's National Book Award finalist Most Dangerous: Daniel Ellsberg and the Secret History of the Vietnam War, and picture books The Skunk and Ned the Knitting Pirate. Among other projects, she is currently working on a series of books for emerging readers in partnership with the Scripps National Spelling Bee, as well as a picture book about fishing by Tommy Greenwald and David McPhail.

Your critique may include full picture books for fiction, full picture books plus back matter for nonfiction, and up to ten pages of older genre categories (chapter book through YA).

Questions may be sent to KidLit College, Jodell Sadler @ [email protected].