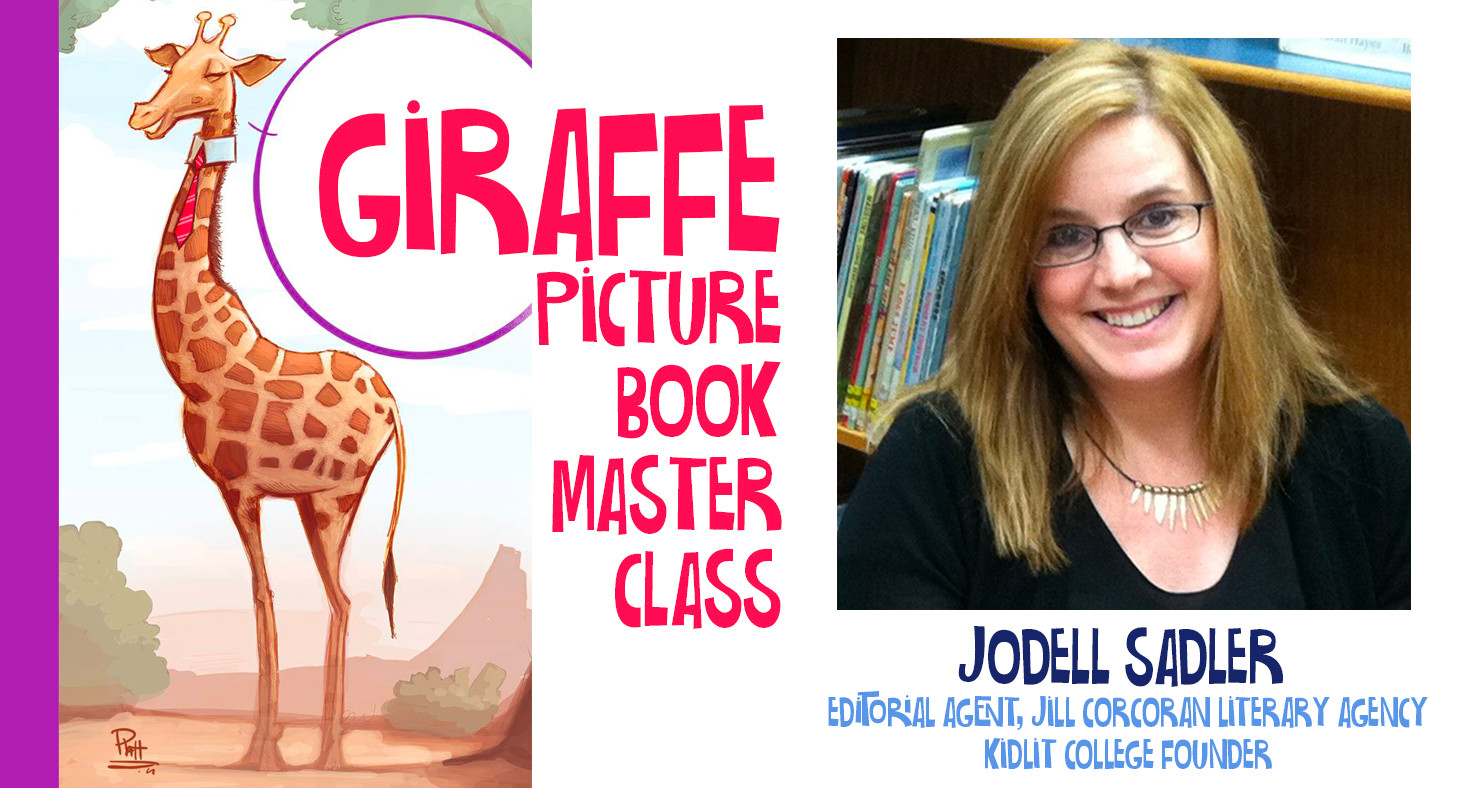 Jodell Sadler, Editorial Agent JCLA
KidLit College Founder, Pacing Geek, Art and Marketing Director, Designer

Sept 20th • 8 PM EST and on-going every Wednesday night!
Why GIRAFFE Picture Book Master Class?
I want you to...
G - et real
I - nspire yourself
R - ealize your dreams
A - sk questions
F - ind story focus
F - all in love with active writing
E - ngineer your success!

This class combines my MFA critical thesis, years of research and expert editing techniques. Weekly webinars and lessons guides you to re-engineer and do more with your picture book. This course takes you from idea to polished manuscript, explores structure, and helps you get on the page and create the stage that will help you hone in on what editors and agents are looking for.
Curriculum (order subject to change for editor's schedules)

Curriculum (order subject to change for editor's schedules)
Characterization: Have your created that character that stands out?
Voice: How fresh is your approach, voice and character?
Firsts: First breath of story matters a great deal. How strong are your first pages and page turns?
Concept: Is your concept strong enough and how will you better position your work?
Pacing: How might you improve how you unfold the moments of you picture book story?
Structure/Originality: What are the various structures and does originality matter?
Scenes/Getting on the page: Are you performing and engaging your stage fully?
Emotional Arc/Worldview: Have you added interiority? Have you gone far enough to add emotional depth?
I will surprise you with Writing Tips, Great Market Advice, Live
Q&A, Information on Musicality of Language, Humor, Interactivity,
Engagement, How to Promote yourself as an illustrator or author/illustrator, How/When to use Illo. Notes, and great moves that will make your revisions fun. What more could you ask for?
This course compiles my MFA research study with concrete examples plus real publishing experience into a focused questions and lectures that will help you improve your picture books. This workshop will provide you with the tools, the re-imagining, positioning, polish, and insights you need to improve your work.
You will have access to me during this class, and you can explore all material, ask questions, and share with me interactively as you work. I also reserve the right to surprise you with books and bonuses at any time throughout this class.
You will be able ask specific questions about your projects and manuscripts as we discuss sections of your work, openings, characters, concepts, etc.
Who should take this course?
It's for authors AND illustrators
It's for the illustrator who wants to break in to writing.
It's for the writer move their book to project to publish-ready.
It's for every writer looking to improve and enhance their own editing fun.
It's for the writer who wants to achieve that more lyrical, musicality of language.
It's for the writer who needs a plotting guide and master pacing class all in one.
It's for the writer craving the most unique and in-depth study of picture books.
Are you ready to give your books a work out? Join me!

Have Qs? Contact me at [email protected]