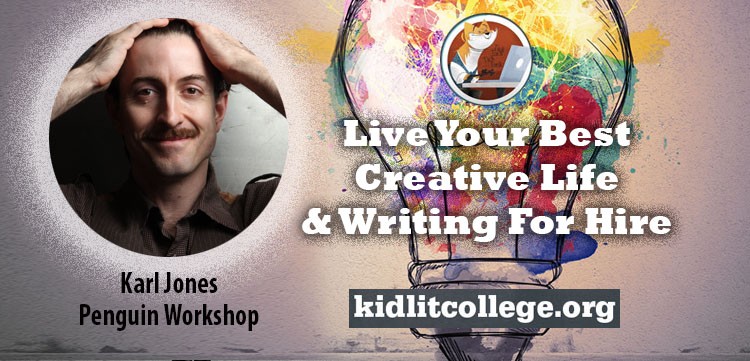 Karl Jones, Penguin Workshop
Live Your Best Creative Life & Writing-For-Hire

April - Join Us on April 28th at 11 a.m. EST. Cultivate Your Creativity!
Whether you are building futuristic worlds in speculative YA, developing authentic characters in realistic middle grade fiction, or crafting artful language that matches the expansive visual storytelling of a picture book, you must rely on your own creative process. And to rely on your own creativity, you must learn to cultivate it. Creativity takes work but if you approach it playfully and with intention, you can tap into vast stores of your own creative potential that have been with you since childhood. Join Karl Jones on an exploration of the creative process, how to harness your own creative power, and how to apply it to your writing.
Plus, Writing for Hire! Karl will also discuss WFH projects and coach you on how to submit because you will be invited to submit to Karl.

A bit more about Karl
Karl Jones is an associate editor at Grosset & Dunlap/Price Stern Sloan/Cartoon Network Books in the Penguin Young Readers Group started his career in publishing in 2010. He edits middle-grade fiction, format-busting activity books, and licensed book projects for young readers. His authors include the youngest New York Times bestselling middle-grade author of the Just Jake series, Jake Marcionette, and the critically acclaimed stage performer and screenwriter for 2 Broke Girls, Justin Sayre, who debuted his first middle-grade novel, Husky, in 2015. In his free time, Karl makes art, tells stories, and writes funny things for kids and adults, including some of Penguin's own Mad Libs.