KIDLIT COLLEGE FULL-YEAR MEMBERSHIP IN MONTHLY-PAYMENTS.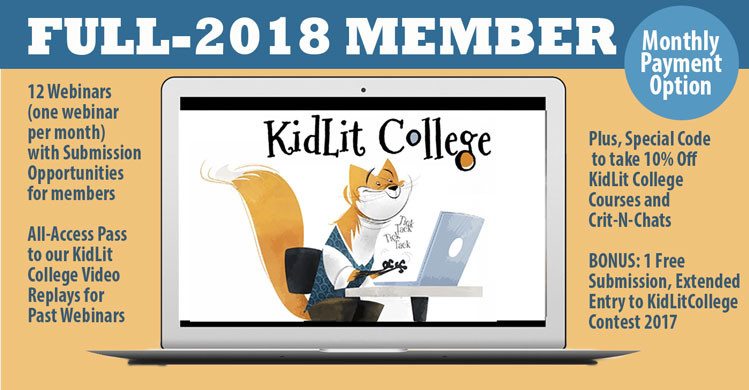 This is a tough time of year to go the extra to benefit your writing life in the upcoming season, and because we completely understand this challenge, we are providing a monthly-pay option. You will receive all the benefits of full KidLit College 2018 Membership, plus enjoy the benefit of small monthly payments—AND a BONUS submission to our KidLit College Contest 2017, which hosts a New Extended deadline of Jan 7th @ Midnight.

If you are looking for a monthly-pay option, this is it. Please know, that once you select this option, there's no refund. You will be brought into the Full-Year course, and this will stay active until Annual Membership is paid in full.
Feel free to use the KLC-2017 on your first payment at the check out.
We will manually transfer you to the full-member course upon registration as quickly as possible, so you will enjoy reading up on all the benefits of our membership and get fired up for our January classes, Crit-N-Chats, and first webinar event of the season.
This is the best way to see all your New Year Writing Resolutions come true.

Happy Holidays,
Jodell Sadler & the KidLit College team

Happy Holidays.
Jodell